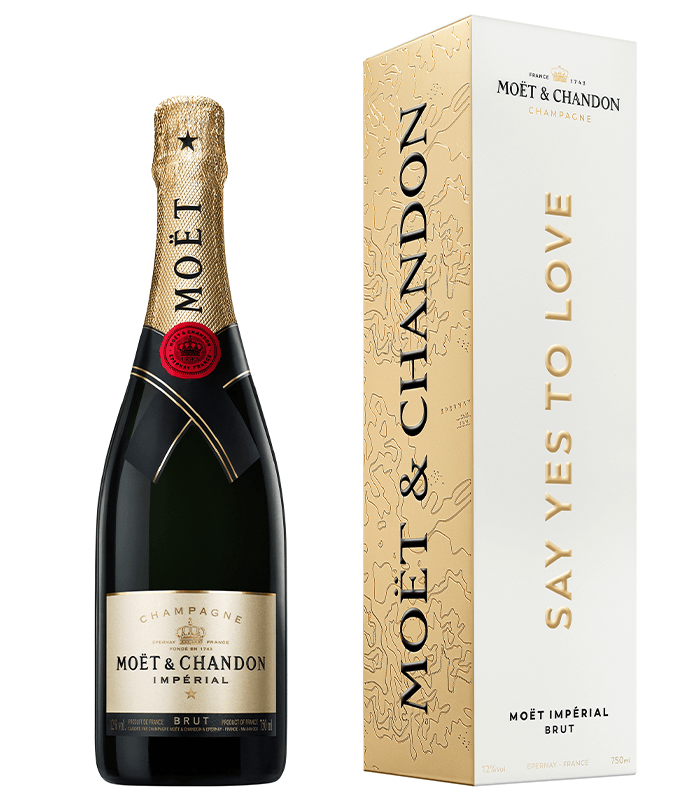 MOËT IMPÉRIAL Brut Box With Inscription Say Yes To Love 0.75L
In stock - delivery within 24 hours on working days for Sofia.
Art. # 3623
Say Yes to Love

MOËT IMPÉRIAL is the symbol of the brand. Created in 1869, it is the quintessence of MOËT & CHANDON's recognisable style - fruity aroma, seductive taste and elegant maturity.
Created from over 100 different wines, including 20-30% aged (1 to 3 years), specially selected to highlight maturity, complexity and consistency of flavour. The blend reveals the characteristics and harmony of the three varieties:
Pinot noir structure: 30 - 40%
Juiciness and softness from Pinot Noir: 30 - 40%
Elegance from Chardonnay: 20 - 30%
Profile
Fruit

Body

Dryness

Freshness

Alcohol
Variety
Flavours
Flowers
Mineral Flavors
Apple
Glass

Serving Temperature

Ice Cold
Food pairing
Vegetables
Seafood
Soft Cheese
More of the same producer
More about this wine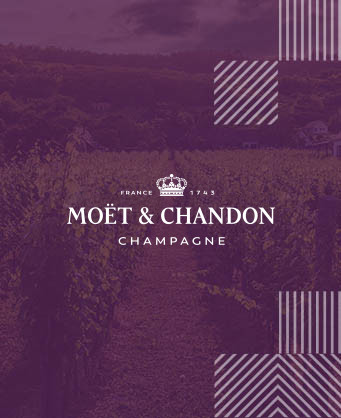 Moët & Chandon
Moët & Chandon, also known as Moët, is a French fine winery and owned by luxury goods company LVMH. Moët et Chandon is one of the largest producers of champagne in the world and a famous champagne house founded in 1743 by Claude Moët. Today, it owns 1,190 hectares of vineyards and produces approximately 28,000,000 bottles of champagne annually. Moët et Chandon began as Moët et Cie, created by Épernay wine merchant Claude Moet in 1743 and delivering his wine from Champagne to Paris. The reign of King Louis XV coincided with the increased demand for sparkling wine, and soon after its founding and the accession of Claude's son, Claude-Louis, the clientele of the winery included exclusively nobles and aristocrats. In 1833, the company was renamed Moët et Chandon after Pierre-Gabriel Chandon de Briailles, Remy Moët's son-in-law, joined the company as a partner of Jean-Remy Moët, grandson of Claude Moët. After the introduction of the vintage champagne concept in 1840, Moët launched its first one in 1842. Their best-selling brand, Brut Imperial, was introduced in the 1960s. Their most famous label, Dom Perignon, is named after the Benedictine monk remembered in legend as the "Father of Champagne". Moët & Chandon merged with Cognac company Hennessy in 1971 and Louis Vuitton in 1987 to become LVMH (Louis-Vuitton-Moët-Hennessy), the world's largest luxury group. In 1973, the then company Moët-Hennessy founded Domaine Chandon, a winery in the Napa Valley - the first French sparkling wine company in the United States. In 1986, Domaine Chandon was established in Australia in Coldstream, Victoria, as well as in the Ningxia region of China in 2013 and in the Nashik region of India in 2014. Moët & Chandon is one of the official suppliers of champagne to Queen Elizabeth II . In 2006, Moët et Chandon Brut Impérial released an extremely limited series of champagne called "Be Fabulous", a special edition of the original Swarovski decorative crystal bottle, celebrating the elegance of Moët et Chandon.
All wines of the same producer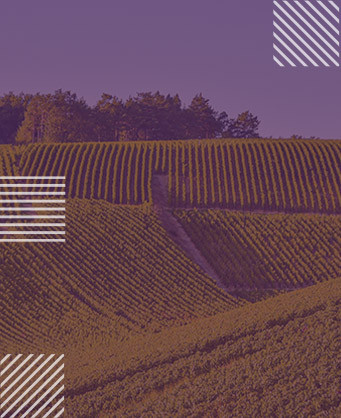 Champagne
The Champagne region is located to the northernmost of all the vineyards of France. The distinctive taste and purity of real champagne is certainly due to the calcareous soil and continental growing conditions. Unlike most other wines, it is characteristic of those from Champagne that the vintages of different years are blended to obtain a final product (non-vintage) or different wines from the same vintage are blended - in this case the wine is marked as vintage and its year is indicated on the label. This means, after all, that the quality of the champagne obtained depends very much on the balance between the quality of the grapes and the skills of the oenologists, which is why they are also promoted according to the name of the producer. Thus, in Champagne and around the world, the most famous names are Krug, Mumm, Bollinger, Veuve Clicquot, not to mention the well-known brands Dom Perignon, Moët & Chandon and Taittinger. The grape varieties in this region are Chardonnay, Pinot Noir and Pinot Meunier, which are present in different proportions in Champagne wines. The so-called Blanc de Blanc, made only from Chardonnay grapes, and Blanc de Noir, which is white champagne but made from red Pinot Noir grapes, are also often produced. A curious and little known fact is that in Champagne sparkling rose is made with a mixture of white and red wine, and not as is the standard for the production of rose wine.
More wines of this region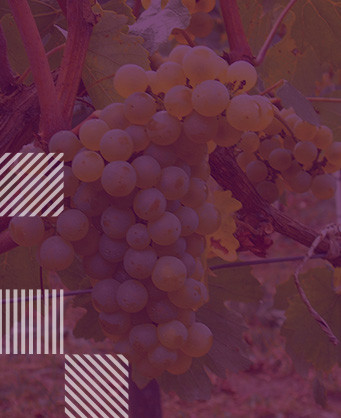 Chardonnay
Chardonnay is the world's most famous white-wine grape and also one of the most widely planted. Of course, the most highly regarded expressions of the variety are those from Burgundy and California, but many high-quality examples are made in Italy, Australia, New Zealand and parts of South America. Describing the flavours of Chardonnay is not easy. This is not thanks to the complexity of the varietal itself but usually due its susceptibility to winemaking techniques - such as Malolactic fermentation which gives distinctive buttery aromas or Fermentation or maturation in oak barrels which contributes to the wine with smokey notes of vanilla, honey and even cinnamon, and not last the lees contact while in barrel imparts biscuity, doughy flavours. And all these incorporated with the varietal aromas of tropical (banana, pineapple and guava) to stone fruits (peach, nectarine and apricot), sometimes even citrus and apple notes. Climate plays a major role in dictating which fruit flavours a Chardonnay will have - warm regions (California, Australia ) make more tropical styles; temperate zones (southern Burgundy, New Zealand) - stone fruit notes, while the very coolest (Chablis, Champagne) lean towards green-apple aromas.
More wines of the same variety