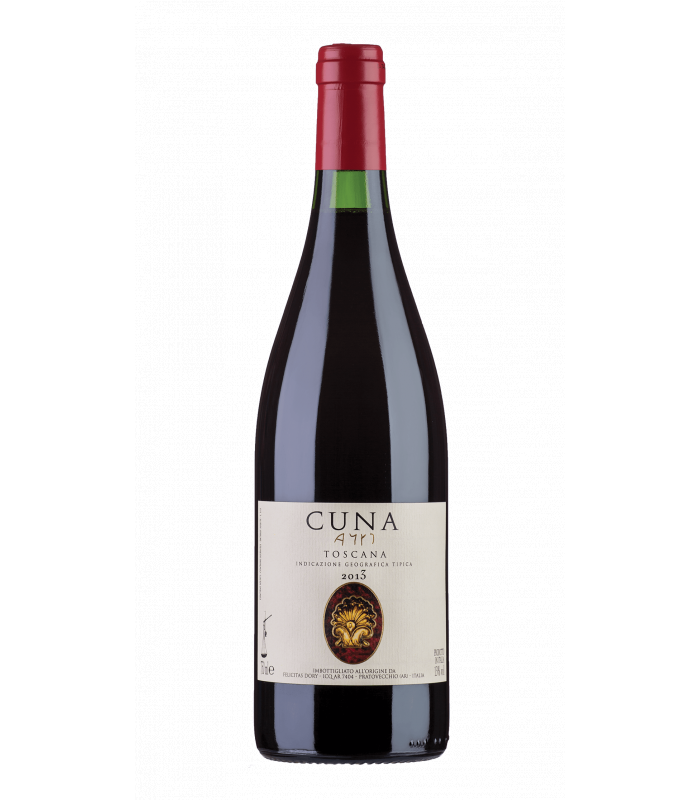 Cuna 2013
In stock - delivery within 24 hours on working days for Sofia.
Art. # 0273
Cuna is a wine with a big character, which combines in one sip the typical roughness of the terroir with the great elegance of this grape variety. The fermentation is spontaneous with wild yeast in large oak barrels. It matures for 15 to 18 months in old barrels.
Alc. 13 %
Profile
Fruit

Body

Tanins

Freshness

Alcohol
Variety
Flavours
Strawberry
Black Currant
Wood
Mineral Flavors
Glass

Serving Temperature

Room Temperature
Food pairing
Vegetables
Red Meats
White Meats
More about this wine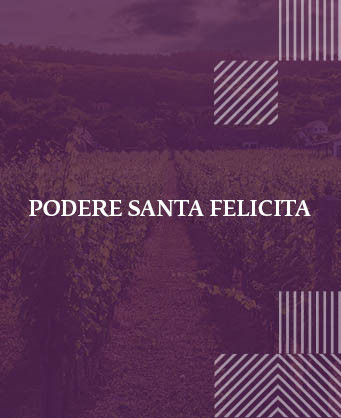 Podere Santa Felicita
Podere Santa Felicita is a project of the famous oenologist and agronomist Federico Staderini, who discovered in the Casentino Valley, Arezzo Province, Tuscany, a place suitable for growing Pinot Noir, a variety known for its capriciousness outside his native Burgundy. The four hectares of vines are at 500 meters above sea level, on limestone soil, with an average age of 10 years. It works only in a biodynamic way. In addition to Pinot Nero, an ancient variety Abrostine is grown. The operations in the winery are as simple as possible and with minimal interference in the winemaking process. There are three wines of Podere Santa Felicita: Cuna and il Brendino from Pinot Nero, and Sempremai from the Abrostine variety. All three impress with their unique flavors and aromas.
All wines of the same producer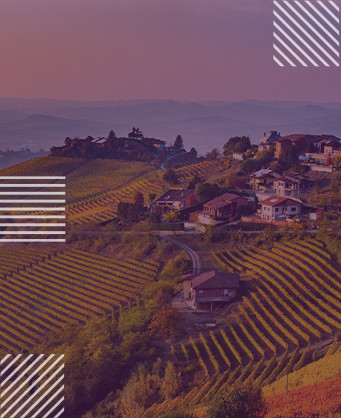 Tuscany
Тоскана е сред най-разнообразните и значими области за италианското вино, където се получава оптималната комбинация на местни и международни сортове, разположени на много различни тероари. През втората половина на ХХ век тя успя да измине пътя от невзрачно качество до създаване на ярки международни звезди като Sassicaia, Solaia и Ornellaia. Не случайно ги наричат Супертоскански (Supertuscan) заради невероятните им ароматни и вкусови характеристики, съчетани с потенциал за отлежаване. Погледната на картата, Тоскана прилича на лозов лист в сърцето на Апенинския полуостров. Тя е границата между силно индустриализирания Север и селскостопанския Юг на Италия. Дели се на девет отделни провинции: Арецо, Флоренция, Гросето, Ливорно, Лука, Маса-Карара, Пиза, Пистоя и Сиена, кръстени на главните градове. Колкото и да е различна Тоскана, като цяло климатът й е средиземноморски с много слънчеви дни в годината. Почвите са основно съставени от глина, пясък и варовик. Шейсет и осем процента от релефа на областта е описан като хълмист. Сортовете, които са най-разпространени, са санджовезе (абсолютен лидер и безкрайна гордост за местните), канайоло, малвазия, требиано, каберне совиньон, каберне фран, мерло, шираз, верментино и чилиеджоло. Санджовезе (Sangiovese) вече се е превърнал в синоним на топвино от Тоскана, и макар сортът да е широко разпространен в Централна Италия, тосканският климат (който понякога е с доста мразовити зими) и богатите на калций варовиково-глинести почви се оказват най-гостоприемни за него. Санджовезе може да бъде богато и сочно, но освен това притежава добър потенциал за пресъздаване на специфичния за района тероар. Традиционно в областта го купажират с канайоло и с малвазия, а понякога и с требиано, но от 80-те години на XX век производителите, отдадени на идеята за суперпремиумни вина с принадлежност, го предпочитат 100% чисто. Това е залегнало и в класификацията на областта, според която високите категории DOC и DOCG толерират санджовезе като задължителен участник с над 85% в сортовия купаж. Ето защо не е чудно, че санджовезе владее лозята на Карминяно (Carmignano), Руфина (Ruffina), хълмовете около Винчи (Vinci), Кианти (Chianti) и Кианти класико (Chianti Classico), на юг около Монтепулчано (Montepulciano) и Монталчино (Montalcino). Броят на насажденията за един хектар е 3500 - 4000 за старите лози и 6000 - 10 000 за новите.
More wines of this region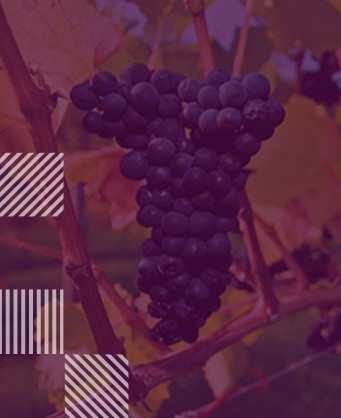 Pinot Noir
Pinot Noir is the dominant red wine grape of Burgundy, a challenge for every single vine grower and wine producer. It can be found in Germany (as Spätburgunder), Italy (Pino Nero), Chile, South Africa, Australia, New Zealand and the USA. The wines show a specific aroma of red berries and cherry depending on the vinification method employed - from fresh red cherries in lighter wines to stewed black cherries in weightier examples, many of them also showing hints of earthy flavours.
More wines of the same variety