Moët & Chandon Imperial Brut 0.75 - 2 golden glasses
Out of stock
Art. # 4018
A festive set of 2 gold Moët & Chandon champagne flutes, perfect for sharing to enjoy the bright fruity aroma, tempting taste and elegant maturity of Moët & Chandon and feel like stars.
More of the same producer
More about this product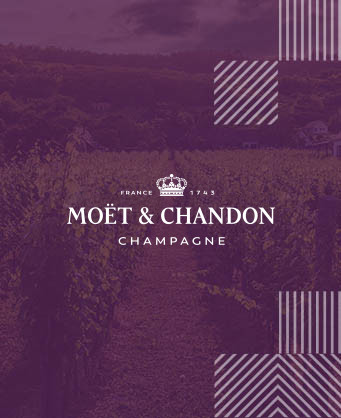 Moët & Chandon
Moët & Chandon, also known as Moët, is a French fine winery and owned by luxury goods company LVMH. Moët et Chandon is one of the largest producers of champagne in the world and a famous champagne house founded in 1743 by Claude Moët. Today, it owns 1,190 hectares of vineyards and produces approximately 28,000,000 bottles of champagne annually. Moët et Chandon began as Moët et Cie, created by Épernay wine merchant Claude Moet in 1743 and delivering his wine from Champagne to Paris. The reign of King Louis XV coincided with the increased demand for sparkling wine, and soon after its founding and the accession of Claude's son, Claude-Louis, the clientele of the winery included exclusively nobles and aristocrats. In 1833, the company was renamed Moët et Chandon after Pierre-Gabriel Chandon de Briailles, Remy Moët's son-in-law, joined the company as a partner of Jean-Remy Moët, grandson of Claude Moët. After the introduction of the vintage champagne concept in 1840, Moët launched its first one in 1842. Their best-selling brand, Brut Imperial, was introduced in the 1960s. Their most famous label, Dom Perignon, is named after the Benedictine monk remembered in legend as the "Father of Champagne". Moët & Chandon merged with Cognac company Hennessy in 1971 and Louis Vuitton in 1987 to become LVMH (Louis-Vuitton-Moët-Hennessy), the world's largest luxury group. In 1973, the then company Moët-Hennessy founded Domaine Chandon, a winery in the Napa Valley - the first French sparkling wine company in the United States. In 1986, Domaine Chandon was established in Australia in Coldstream, Victoria, as well as in the Ningxia region of China in 2013 and in the Nashik region of India in 2014. Moët & Chandon is one of the official suppliers of champagne to Queen Elizabeth II . In 2006, Moët et Chandon Brut Impérial released an extremely limited series of champagne called "Be Fabulous", a special edition of the original Swarovski decorative crystal bottle, celebrating the elegance of Moët et Chandon.
All wines of the same producer