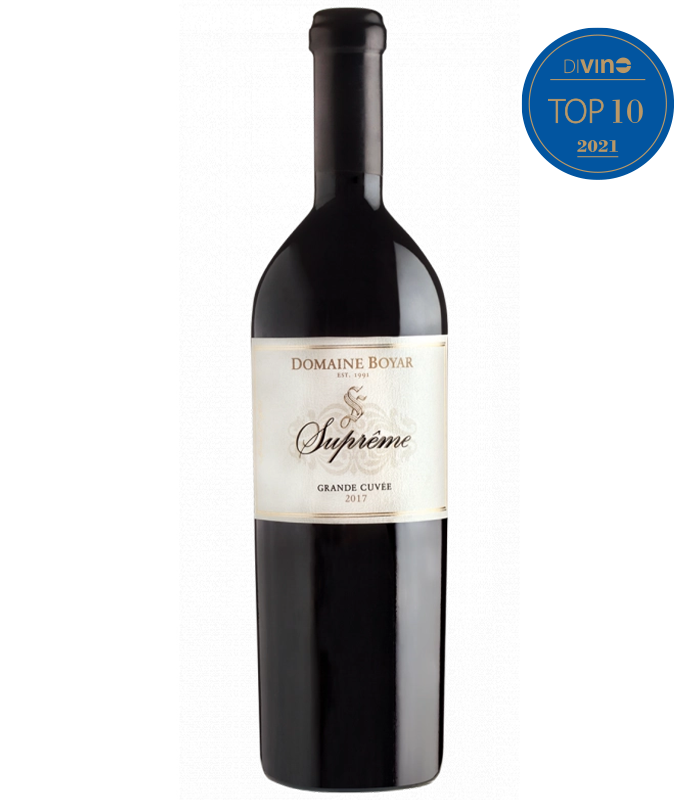 Сюприйм Гранд Кюве Домейн Бойар 2017
In stock - delivery within 24 hours on working days for Sofia.
Art. # 3666
Замислено и създадено от старши енолозите на Домейн Бойар, известните професионалисти семейство Капка и Росен Георгиеви, това класно вино е един богат, добре структуриран и запомнящ се класически Бордо бленд. Енолозите на винарната работят с внимателно подбрани, контролирани и селектирани лозя – в случая мерло и каберне совиньон са от района на Харманли, а каберне фран и пти вердо, от Любимец. Гроздоберът е в периода от 11 септември до 4 октомври 2017 на различни дати за отделните сортове. Винифицира се в малки дъбови ферментатори с обем 500 л и иноксови ферментатори с обем 1000 л.
Profile
Fruit

Body

Dryness

Tanins

Alcohol
Variety
Flavours
Pepper
Small Black Fruits
Wood
Soil
Glass

Serving Temperature

Room Temperature
Food pairing
Red Meats
Raw Dried Meats
Roasted Vegetables
More about this wine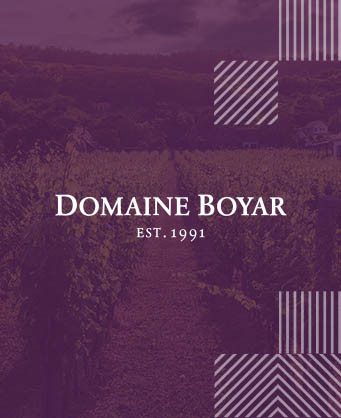 Domaine Boyar
Domaine Boyar was founded in 1991 and has two wineries. "Blue Rocks" is located next to the natural landmark - Blue Rocks in the Balkan Mountains. It was opened in 1999 and is one of the largest and most modern wineries in Eastern Europe. In 2003, Domaine Boyar's family joined the Korten boutique winery, known for its microvinification methods and specialising in the production of high-end wines. In 1992 Domaine Boyar received the personal permission of His Majesty Tsar Simeon II and the exclusive right to use the family royal coat of arms on a special selection of premium wines called "Royal Selection".
All wines of the same producer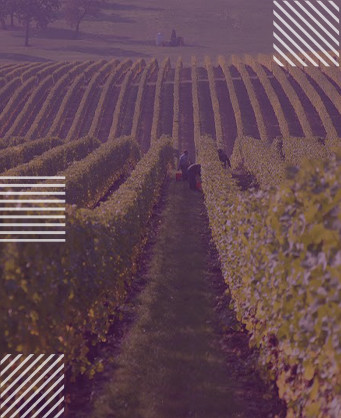 Thracian valley
In this region, which includes Southern Bulgaria, the climate is temperate continental protected from northern winds thanks to Stara Planina, with good rain distribution. It includes the central parts of the Thracian lowland and parts of Sakar. Most of the red grape varieties are concentrated in this area. Mavrud, Merlot, Cabernet Sauvignon, Red Muscat, Pamid and others are grown. The climatic conditions of the region favour the production of rich, dense, memorable red wines, especially from the varieties Cabernet Sauvignon and Mavrud. Good wines from the local variety Mavrud are especially valued for their aroma and taste of small red fruits, spices and herbs.
More wines of this region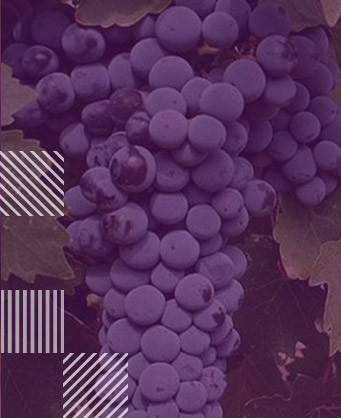 Cabernet Sauvignon
This is probably the most famous red wine grape variety on Earth - a natural crossing between Cabernet Franc and Sauvignon Blanc. From its origins in Bordeaux, this vine has successfully spread to almost every wine growing country in the world. Cabernet Sauvignon wines always demonstrate a handful of common character traits: deep color, excellent tannic structure and aromas of black berries and spices.
More wines of the same variety