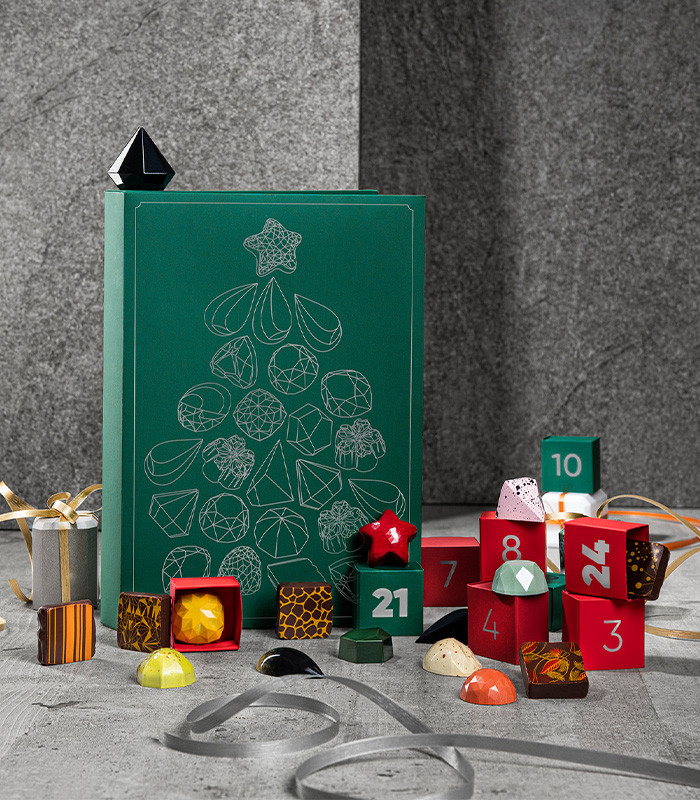 Advent calendar - chocolates La Fève
Out of stock
Art. # 3969
We present you what its creators call a "chocolate casserole" of their most favorite flavors, complemented by a few new, quite seasonal additions: Grand Marnier's bottomless Orange; Mint's cool-as-a-balcony-door-opening; Gingerbread's soft-as-an-awkward-Christmas-sweater flavor; Cinnamon flavor with cardamom and ginger and cloves, and Port's flavor, but let's not talk about wine, because we know you overdo things at Christmas, and you shouldn't!
So here are 24 fantastic chocolates in the following flavors:
Orange & Grand Marnier; Mandarin & Clove; Portwine; Cool Mint; Gingerbread; Cinnamon, Cardamom, Clove & Ginger; Crunchy Slug Seed; Almond; Strawberry & Champagne; Vanilla; Irish Liqueur & Coffee; and Peanut; Sunflower seeds and caramel pieces; Hazelnuts; Walnut, honey and crunchy wafers; Passion fruit; Raspberry and roses; Indrische; Pistachio; Smoked bacon; Yoghurt, honey and walnuts; Pecan; Brazil nut and crunchy wafers; Black garlic.
We all know what's going to happen: you'll pick up a box full of outrageously delicious candy that you think you're going to eat one after the other for the rest of the month, but by December 3, they'll be gone. The stuff of life...
Inside the big box there are 24 smaller boxes, with the dates until Christmas written on one side and forming a puzzle on the other. Do it!