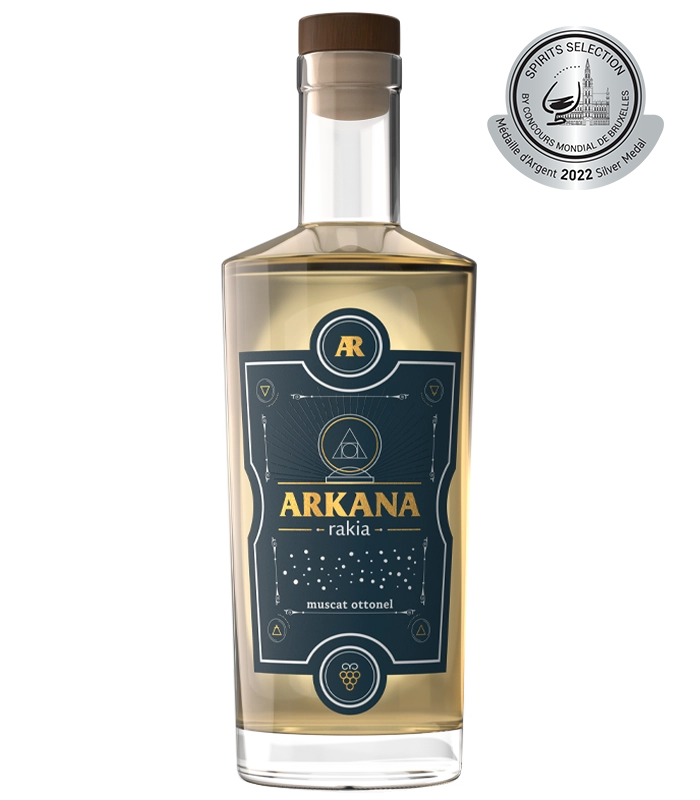 Rakia Arkana 42% 0.700мл.
In stock - delivery within 24 hours on working days for Sofia.
Art. # 3565
Variety: Muscat Ottonel 100%
Alcohol: 42 % vol
Tasting notes: The colour is very light golden, as a result of the short ageing of some of the distillate in oak barrels. The aroma is intense and distinctive for Muscat. The typical notes of rose can be felt, but more in the spectrum of a pleasant Turkish delights. They quickly turn into surprisingly smoky shades of sandalwood and sweet spices - cardamom, cloves and brown sugar. The taste begins with a soft and gentle attack, which brings a tender hint of white flowers, gul leaves, followed by soft nuances of bergamot, dried apricot and bark. The aftertaste is long, multi-layered, with a pleasant honey note on the palate.
Trellising system: Cordon, 5-50-years old vines
Terroir characteristics:
The vineyards are located on the low, hilly slopes of Sredna Gora, in the region of the village of Lesichovo, between 250-350 m above sea level. This perfect exposure determines the uniform sunlight of the vines. The Topolnitsa River crosses the village in its lower course and is a leading factor for the mild microclimate, contributing to the full and timely ripening of the grapes. They are grown organically, without the use of pesticides and herbicides, and fertilisation is done through manure and grassing between rows.
The majority of the 13,4 ha of vineyards is 3-4 years old and is at its start of grape production, but the company also invests in restoration of some old vineyards planted with Muscat Ottonel variety (over 50 years old), and owns about 2 ha with well developed 10-11-year-old vines.
The 4 different locations of the vineyards around the village of Lesichovo clearly show the influence of terroir, even at such a micro level. This contributes to the successful selection of grapes in the fields and harvesting according to the degree of ripening and the desired organoleptic characteristics. In turn it also helps to increase the quality of the material during the vinification process.
More of the same producer